Menu
Background. Every three years, the National Association of Community Health Centers (NACHC) conducts a national health center needs assessment to inform the development of operational training and technical assistance (TTA) needed by health centers to advance health center access, quality and impact. NACHC develops and deploys this effort in close collaboration with all HRSA-funded National Training & Technical Assistance Partners (NTTAPs). Findings from the needs assessment are summarized on the National TTA Needs Assessment resource page that includes: a summary report/infographic (2 pp.); a summary analysis of results (100 pp.); and state-specific needs assessment profiles (scroll to middle of page).
Resources to Respond to Needs. This page provides resources to support the findings of this comprehensive needs assessment in key areas represented by a model of expanding influence, beginning with professional role-based needs, to geography-based needs, to topic-based needs, to the needs that are currently being felt, to needs that are emerging in the field.
Note. Lists of resources are generated automatically from keywords in the Clearinghouse to address these general topics rather than selected individually. In this way, these lists are continually renewed as new resources are added to the collection. If you have additional or more focused resources for any of the topics below, please submit them to the Clearinghouse.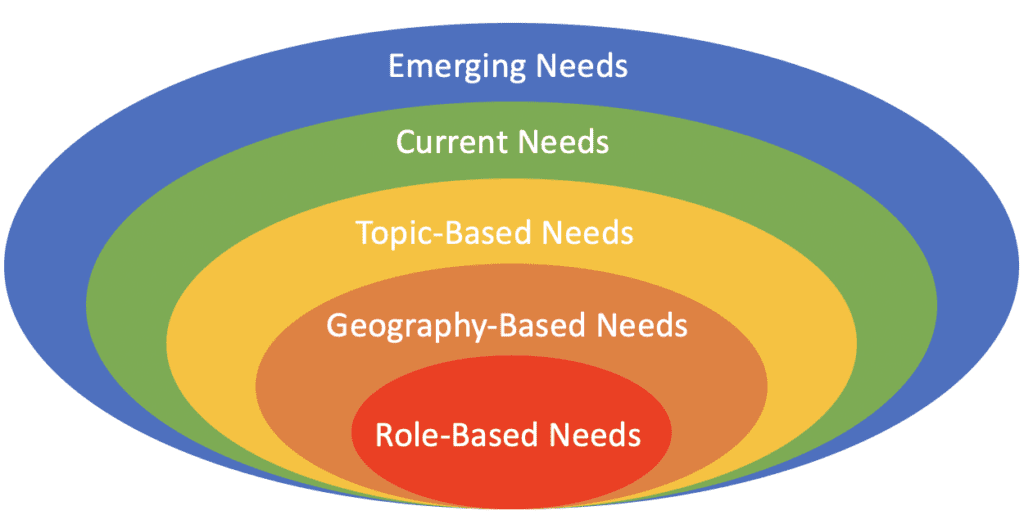 More About the Needs Assessment: Video and Background
Results from the national assessment will inform the development of TTA necessary to support health centers improve access to primary health care as well as to advance quality and impact in upcoming years. It found common TTA needs among health centers across the nation, including workforce, access and affordability and quality patient care, and elevated distinct TTA needs of health centers by size, geography, funding type, and staff role.
Watch this video to get started:
Read this background for more information:
Assessment data can be used to further understand similarities and differences in specific TTA topics by health center characteristics and staff roles. Future research could include health center staff focus groups to gain more context on these identified TTA needs. Health center staff could provide detail on how identified TTA needs relate to health centers, current and near-term realities, and in relation to their strategic priorities and available resources.
Finally, TTA needs are identified by National Training and Technical Assistance Providers (NTTAPs) and HRSA's Bureau of Primary Health Care (BPHC) throughout the year through annual analysis of the Uniform Data System (UDS), learning collaboratives, TTA evaluations, and website analytics, among other methods. The findings from the 2021 needs assessment provide a robust method to complement this continuous data analysis and feedback that NTTAPs and BPHC collect.
Resources To Address Professional Role-Based Needs:
The Clearinghouse has resources designed to help fulfill your daily job junctions. Use the links below to access resources to address findings from the needs assessment or broaden your search through our Guided Search:
Resources for Executive/Senior Leadership. These resource address issues felt by over one third of needs assessment respondents in leadership roles.
Resources for Front Line and Operations Staff. These resources address needs of the nearly two thirds of respondents who deal with front line and operational issues.
Resources To Address Geography-Based Needs:
52% of urban health centers more often reported patient experience as a TTA need, while 26% of rural health centers more often reported emergency preparedness as a TTA need. Access resources to address both expressed needs below.
Resources To Address Topic-Based Needs:
Workforce experience and development; access and affordability; and quality, patient care, and safety emerged as the three broad categories where many needs were identified by the assessment. The Clearinghouse has resources to address the top priorities under each category.
Workforce Experience and Development
Access and Affordability
Quality, Patient Care, and Safety:
Resources To Address Current Overall Needs:
The three top, current needs were identified by the assessment to be quality, patient care, and safety (69%); workforce experience and development (60%); and accesses and affordability (53%). Access the Clearinghouse for resources to address these overall needs.
Resources to Address Emerging Needs:
Looking to the short-term future, three emerging areas – emergency preparedness, funding, and the workforce – were identified by health center leadership as topics they anticipate needing support for. A growing body of resources is accessible on these topics through the Clearinghouse.